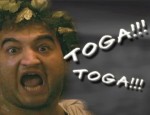 When: Saturday, July 21st
Where: Piedmont Bend Pool
Time: 8 – 12 AM
Subject: All summer social events are over
What? Over? Did you say "over"? Nothing is over until we decide it is! Was it over when the Germans bombed Pearl Harbor? Hell no!
As Bluto said nothing is over until we decide it is!! Social Events are NOT over at PB. Please join us for a Movie Night and Toga Party, as Piedmont Bend Social Committee presents a cult classic "Animal House".
Please come in your best Toga – remember to wear proper attire under the toga!
This is a BYOB function and if you can please bring an appetizer to share with the others that would be great. And just a reminder this is an adult only event so book those baby sitters now!!!