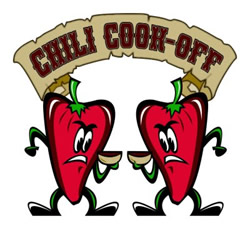 WHEN: SATURDAY, SEPTEMBER 26, AT 1:00 P.M.
WHERE: PIEDMONT BEND POOL
WHY: TO HAVE FUN AND RAISE MUCH NEEDED MONEY FOR THE PIEDMONT BEND RECREATION ASSOCIATION
The festivities are sure to fire up the taste buds! The chili tasting and judging will begin at 1:00 p.m. with an awards ceremony at 4:00 p.m.
Awards will be given in the following categories:
"Best Red Chili"
"Best White Chili"
"Most Creative Concoction"
"The People's Choice Award"
Tickets are $5.00 per person or $20.00 for a family. Additional tax-deductible donations are welcome!
This event is open to anyone and everyone! Membership in the Piedmont Bend Recreation Association is not necessary.
DO YOU THINK YOU HAVE A GREAT CHILI RECIPE?
We are still accepting entries into the competition! As noted, each category winner will receive an award, and, even better, will have bragging rights for an entire year! If you would like to submit a chili for the cook-off, please contact Cliff Pepper. The deadline for entry has been extended to Friday, September 25. Each participant will be provided the rules of the competition upon entry, but the main points are as follows:
The chili cannot be store bought!
Please provide a minimum of 6-8 quarts of chili (this is about the size of a standard Crock Pot or slow cooker). This will assure that we have enough chili for everyone.
Chili must be at the pool by 12:00 p.m.
You can enter more than one chili recipe
There are no entry fees to participate!
Please contact Cliff via email cpepper@campbellstone.org or by phone, 404.384.5794, if you would like to enter the competition!