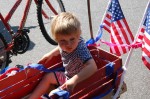 It's time for the annual Piedmont Bend July 4th Parade!
Decorate your bikes, strollers and scooters for a patriotic ride through the neighborhood. Riders and their parents should meet at 10 am at the intersection of Kinridge Road and Kinridge Trail (see map below). The parade will proceed to the pool where everyone can cool off with a dip in the pool or a swing on the playground.  Check out some pictures from last year.
Spectators are encouraged! Happy Fourth of July!
INSERT_MAP